Le Monde Diplomatique Magazine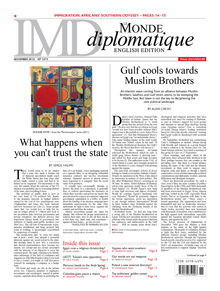 | Retailer | Discount Code? | FREE GIFT? | Price | |
| --- | --- | --- | --- | --- |
| | No | No | £35.00 | |
Prices are 12 month subscriptions unless otherwise stated.
Some annual prices quoted can be Direct Debit prices, which are usually the cheapest way to subscribe.
Le Monde Diplomatique Magazine Description
Le Monde DiplomatiqueLe Monde Diplomatique is a French magazine that has been created for the man who has a thirst for knowledge. Many think they have it and many prove they do too. The magazine is a combination of society culture affairs and most importantly politics. The magazine has given space to many important personalities and the people who support them. From important to small everybody has had a say in the major going on of the country. This is n independent paper that does not get sponsored from any side but is therefore a much unbiased view from its bird's eye view. Seeing a larger picture the magazine has been very friendly and welcoming but the political dramas of the century cannot continue. The various pressing issues have been seen from different viewpoints.Le Monde Diplomatique can foresee the complexities in relationships and the world's problems are discussed in a very civilized and entertaining way. The magazine has one of the most argumentative natures that can induce the truth to be told and expressed. The indulgence of the magazine has allowed a lot of important articles to be published that would have gotten scraped had it been a magazine that was not of this caliber.Le Monde Diplomatique has great foreign coverage and gives us the best news from all the four corners of the world. The magazine will be able to provide the best reasons in any political situation and this has become the most reputed quality of this reputed magazine. The magazine is trying to target readers diplomats administrative personnel and many others who have the power in their hands.They have the power to convert and continuing this they have become all that they had ever hoped to be. The success of Le Monde Diplomatique is because of its sincere work and even better presentation that can make the best news look like death.So all those interested get going and grab the latest issue of this fantastic magazine. You could either go in for the single issue or you could also go in for the annual subscription.
Category: Other Magazines
Magazine Rating:
Add your review of Le Monde Diplomatique
Similar Magazines to Le Monde Diplomatique