Magazine Gift Vouchers
Don't know what magazine to get your loved one or are you in a hurry and need a last minute gift. How about a magazine gift voucher, then they can decide which magazine to choose from. You can can choose to receive the gift vouchers via email or in the post.
Magazine Gift Vouchers come in several denominations including: £5, £10, £20, £30, £40, £50 all the way up to £100
Magazine Gift Vouchers via Email
isubscribe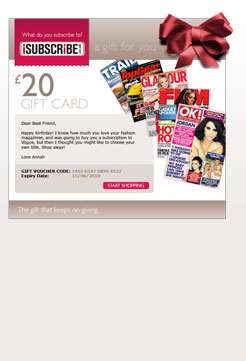 isubscribe gift vouchers are electronic and can be emailed to your recipient's email address, or your own so you can forward it on. You can even email it to yourself and print it out to put into a card and give on the day.
Gift vouchers can be personalised with your own message as well as a special theme, you can create your own design. Choose between travel, fashion, sports & outdoors, home & garden or a variety pack theme, to name a few!
Select the value of the gift voucher and the recipient can use the voucher to redeem a magazine or newspaper subscription. Gift vouchers will arrive within 5 minutes or they can be sent on a date that you specify!
Magazine Gift Cards via Post
isubscribe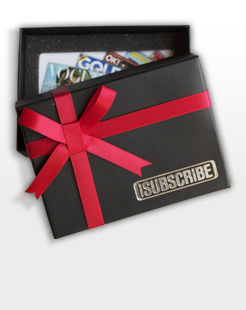 Good things come in small packages and an isubscribe gift card is the perfect gift for someone special. When you choose an isubscribe gift card it will arrive beautifully presented in a gift box tied with red ribbon. The recipient will be able to redeem their gift card on any magazine or newspaper subscription on the isubscribe site with over 3,000 to choose from!
You can select the value of the gift card and choose whether to post it to yourself to give on the day, or post it straight to the lucky recipient.
Order your Premium Magazine Gift Card
Magazine.co.uk
Give the perfect gift with this beautifully presented magazine gift card and pack. Just select the value of the gift card and then choose whether you'd like Magazine.co.uk to post it to you, so you can wrap it and give it on the day, or if you'd prefer them to post it straight to the gift card recipient with a personalised message.
The recipient of the card can then use it towards buying a subscription to any of the hundreds of different magazines available on magazine.co.uk.
A postage & handling fee of £2.99 will be added to all orders. Gift cards are posted by 1st Class Royal Mail.
Order your Magazine Gift Voucher from Magazine.co.uk
Alternatively, you could have a look at our wide range of magazine gift packs...