Classic Boat Magazine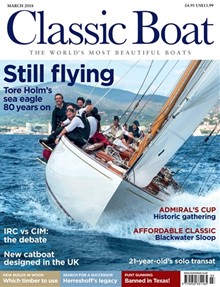 | Retailer | Discount Code? | FREE GIFT? | Price | |
| --- | --- | --- | --- | --- |
| | No | No | £41.50 | |
| | No | No | £44.50 | |
digital magazine copies
12 digital issues per year

£33.33

Single digital issues

from £3.33
View all Classic Boat digital single issues and back issues.
Prices are 12 month subscriptions unless otherwise stated.
Some annual prices quoted can be Direct Debit prices, which are usually the cheapest way to subscribe.
Classic Boat Magazine Description
Classic Boat is the original and best British traditional boating magazine. Every month we showcase the worlds most beautiful classic yachts and traditionally designed workboats alongside a wealth of news, opinions and reviews by the best writers in the business. CB covers boats of all sizes and type, from any era, and made from any material. We are a photographically-led and design-led magazine taking inspiration from, and providing inspiration for, all builders and users of beautiful boats. We also try to dispel the myth that running an old wooden boat is hugely time-and-money consuming.
Over the years, weve covered everything from skiffs to superyachts, from the funereal barges of the Pharaohs to the latest glassfibre production classics. Weve written about canoes and river craft, knockabout dinghies and dayboats, gaffers and luggers from the great days of working sail, vintage powercraft, the great racing classes and cruising yachts of earlier this century, steamboats, ethnic boats, Tall Ships and almost anything else which celebrates a particular attitude to boats and their use which derives something of value from the past.
Category: Boat Magazines
Magazine Rating:
Add your review of Classic Boat
Similar Magazines to Classic Boat